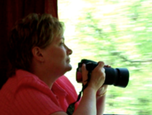 Using My Photographer's Eye

Whenever I am traveling, whether locally or around the world, I keep my photographer's eye open for interesting shots. Often some small detail will catch my eye. I grab my camera or iPhone and zoom in on it. The blog photo was one of those spontaneous photos. I was waiting for the cruise ship to dock in Grenada, when I spotted the three boats. I zoomed in on them and made the photo.

Composition is another key element. Photographers know about the rule of thirds. I also go by Gayle's Photo on the Wall rule. I look through the camera lens and then zoom in or move until I have a photo that I could frame and hang on my wall. I am aware of details in the photo that might distract or not belong. Sometimes this is easily fixed by zooming in on the subject or by me physically moving a little to one side.

Also be aware of lighting. Again sometimes I just move around while looking through the camera viewfinder to see how the subject looks from different directions. (Watch out though so you don't trip or fall off a ledge.) Objects look differently in the early morning or evening light. I also often use the light from windows.